Brushing Your Child's Teeth 
Life as a kid is busy enough! Between school, family time, sports, and playing it leaves little time for them to brush teeth. Brushing their teeth is an important life skill that every child needs to learn for that great kid smile that lasts beyond their teens and into adulthood. Helping them get into the habit of brushing twice a day for two minutes is one of the most important things you can do for their dental health. 
Now we know this is no easy feat as a parent or caregiver so check out this video on how to teach your child to brush their teeth, and our tips below so that you can get started!  
Brushing basics for cleaning your 2 year old's teeth 
Our Markham Family Dentists at Filgiano Dentistry recommend that you start brushing your child's teeth as soon as they first pop out. 
Baby teeth will generally appear between the ages of 6 months and 2½ years. These teeth help your child to chew food properly, develop healthy speech patterns, and hold space for your permanent teeth. 
Step 1: How much toothpaste?
For children under the age of 3 use a child sized toothbrush and a small amount of fluoride toothpaste (the size of a grain of rice) to clean the tooth and gums. For 3-6 year olds use a pea sized amount!
Step 2: How to brush
Brush at a 45 degree angle to your child's teeth. Put the bristles at the place where your gums and teeth meet. Use short tooth wide strokes across the teeth. 
Parents usually find it is easiest to brush their little ones teeth by having them lying down or standing behind them with their head tilted back.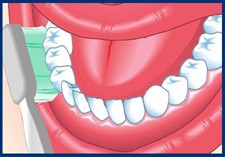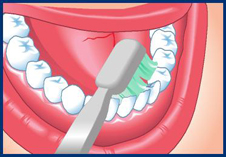 Step 3: All the teeth (and in between)
Clean every surface of every tooth. This means you must brush the outer surfaces, inner surfaces, and chewing surfaces. Use floss to clean between all teeth that are touching
Step 4: Slow and steady wins the race
Slow down and make it fun! Brushing should take 2 minutes, twice daily.
How can I make brushing more fun?
Remember life as a kid is busy, so how can we make brushing more fun? 
Go shopping – Allow your child to pick out their own toothbrush and fluoride toothpaste.

Have 2 minutes of fun – Crank their favourite song while you supervise or brush their teeth for them. 

Make up a story where your child helps to fight the bad guys – like sticky plaque! 

Watch a youtube video to change up your families brushing routine,

like this one

Create a reward sticker chart like the one you see here from the

Canadian Dental Hygienists Association

. 
Children's tooth brushing chart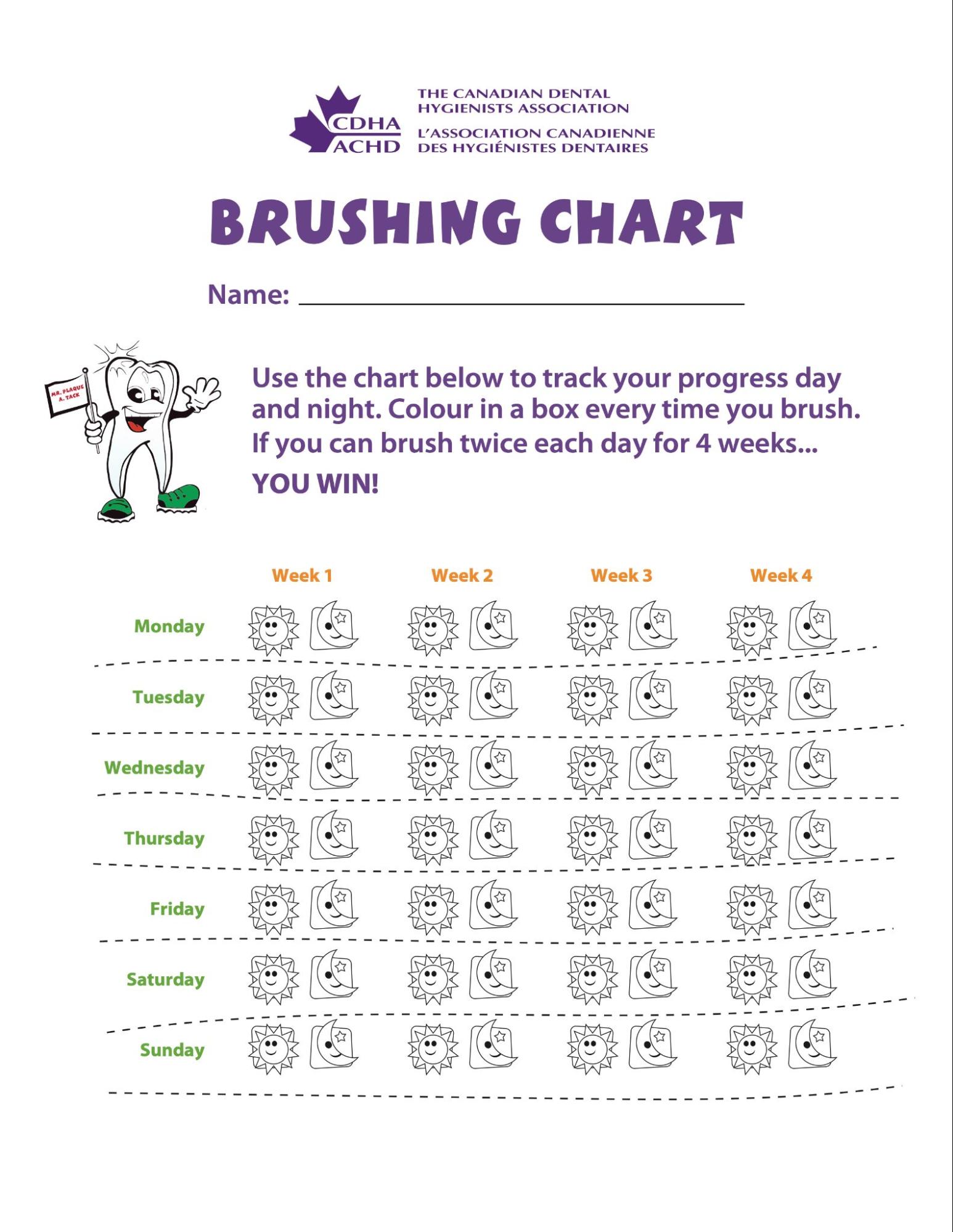 When can children brush their own teeth? 
Parents and caregivers, we know this question is top of mind for you, when will they be able to brush their own teeth, ya know, all by themselves? Most children aren't able to effectively brush their own teeth before age 6-9 years old. 
Your child is likely ready to independently brush their teeth when: 
they have the ability to spit toothpaste into the sink

enough responsibility to brush their teeth in the morning and at night

have enough dexterity to brush their teeth independently
Another way to think about it: If your child can tie their shoe laces, it takes about the same amount of dexterity to brush your teeth. 
Our dentists recommend that parents and caregivers supervise independent brushing until they can do all those things well. They also recommend you finish up by taking a turn at their teeth yourself to make sure that all the inner, outer and chewing surfaces have all been cleaned. 
When should I bring my child in for their first dental visit?
We recommend bringing your child in for their first visit anywhere between their first and third birthday. This allows us to see if the teeth cleaning routine you are using at home is working, and it gives us a chance to identify any small problems early! Of course, if you have any question or concerns, we'll be happy to have a look at any age just Book an appointment with your favourite Markham Dentist, Dr. Tom or Dr. Gerry.
The Markham Dentists You Like